THE BRAND
NEITHAN HERBERT OPERATES AT THE CONVERGENCE OF COUTURE AND READY-TO-WEAR, CULMINATING IN A LUXURY CLOTHING LINE WITH A SERENE TIMELESS STYLE THAT CONSECRATES THE LATIN AMERICAN ROOTS THAT PRECEDE THE FOUNDERS OF THE BRAND. EACH PIECE BRINGS FORWARD A CONTEMPORARY TAKE ON FEMININITY THAT INSPIRES THE SELECTION OF FABRICS AND HAND-CRAFTED TECHNIQUES APPLIED ON EACH GARMENT.
SOFTNESS, ROMANTICISM, STRUCTURE, MINIMAL AND MAXIMAL, PERFECT AND IMPERFECT ARE THE KEYWORDS TO DESCRIBE OUR STYLE. OUR AIM IS TO DEVELOP A WORLD OF PIECES THAT CAN BE CHERISHED FOR YEARS. PASSED BETWEEN GENERATIONS, REINTERPRETED AND RESTYLED TO EXPRESS THE INDIVIDUAL STYLE.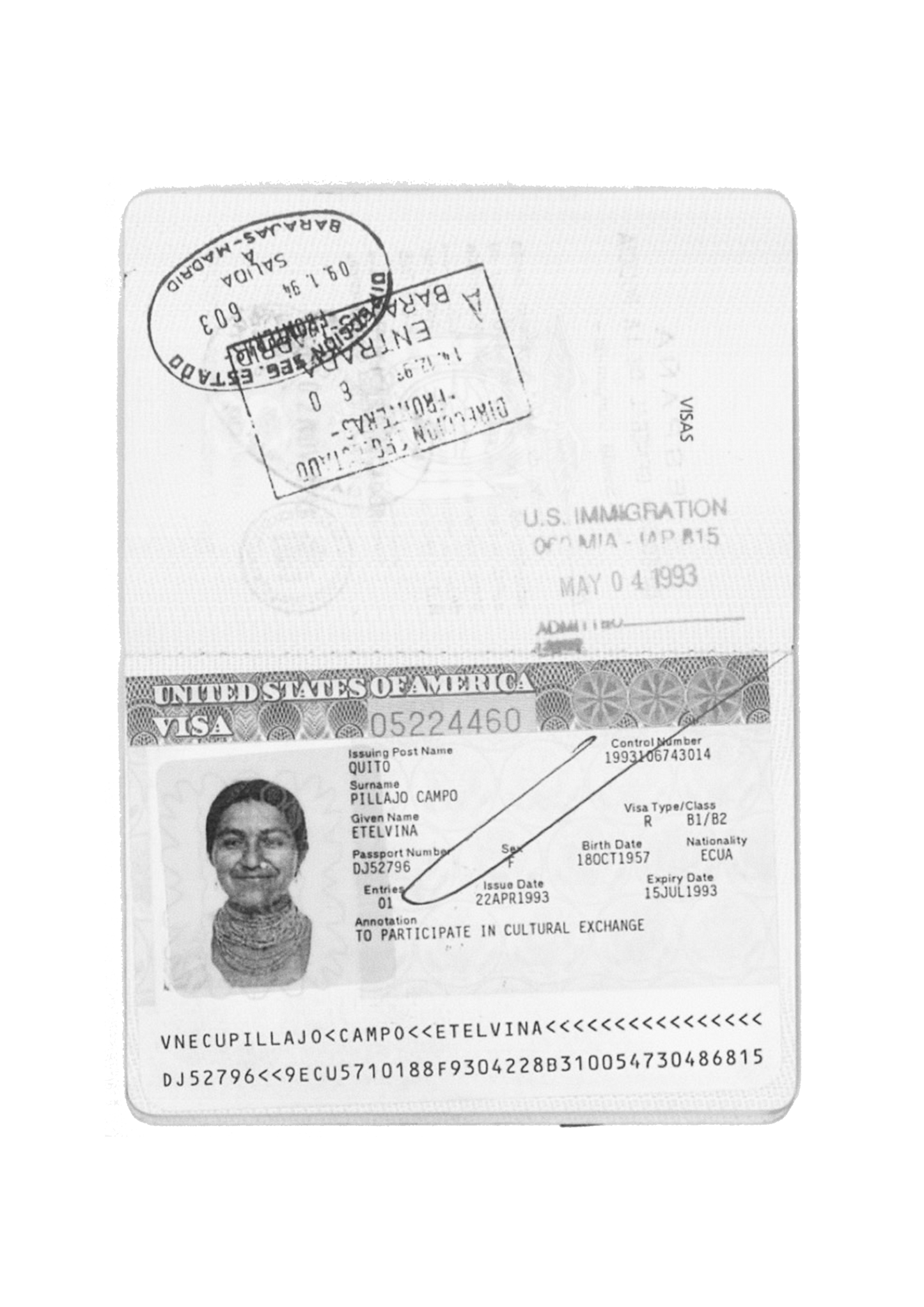 OUR HISTORY
WE ARE NOT BORN WITH A CULTURE, LIKE WE ARE BORN WITH DARK OR LIGHT COLOR EYES, WE ARE BORN INTO CULTURE, AND LEARN IT BY LIVING IN SOCIAL GROUPS. FROM A YOUNG AGE WE KNEW THAT WE WERE LUCKY ENOUGH TO HAVE THE OPPORTUNITY TO LEARN FROM TWO DIF- FERENT CULTURES AT THE SAMETIME WHILE WE GREW UP.
"I AM AN INCA INDIGENOUS FROM OTAVALO, ECUADOR WHO GREW UP IN SAN MIGUEL DE ALLENDE, MEXICO. TWO DIFFERENT COUNTRIES FULL OF TRADITIONS, COSTUMES, COLOR AND FOLK THAT CAN HAVE TOO MANY THINGS IN COMMON. BOTH OF MY PARENTS WERE BORN IN OTAVALO, ECUADOR. THEY BELONG TO THE INDIGENOUS INCA CULTURE, IN A COMMUNITY THAT IT IS VERY WELL KNOWN FOR BEING "NOMADS". MY MOTHER DEDICATED HER LIFE FOR 20 YEARS TO TRAVEL IN DIFFERENT COUNTRIES WITH A GROUP OF MUSICIANS AND ARTISANS TO PROMOTE ARTISAN WORK. WHEN I WAS BORN SHE SETTLED IN MEXICO AND OPENED A CLOTHING STORE WHERE SHE WOULD NOT ONLY PROMOTE ECUADORIAN WORK BUT ALSO THAT OF THE INDIGENOUS MEXICANS. I GREW UP LISTENING TO ALL MY MOM'S ADVENTURES, AND AS ALWAYS, SHE CAME FORWARD FIGHTING DREAMS. SHE HAS ALWAYS BEEN MY INSPIRATION AND IT IS THAT PIECE OF MY HEART THAT CONNECTS ME TO ALL THE ROOTS WHERE I COME FROM. AS A CHILD I HEARD ABOUT MYTHS AND LEGENDS, MY GRANDFATHER WAS A SHAMAN SO I WAS ALWAYS SURROUNDED BY THAT. THANKS TO MY TRADITIONS, THE CURIOSITY OF KNOWING MORE ABOUT THEM HAS ALWAYS GROWN WITHIN ME. AND ON THE OTHER HAND, IT GREW IN ME A GREAT APPRECIATION FOR THE CRAFT WORK AND ALL THE BEAUTY THAT IT CARRIES. THIS WAS THE BEGGINING OF THE BRAND."
-ANGA RUIZ (FOUNDER OF THE BRAND)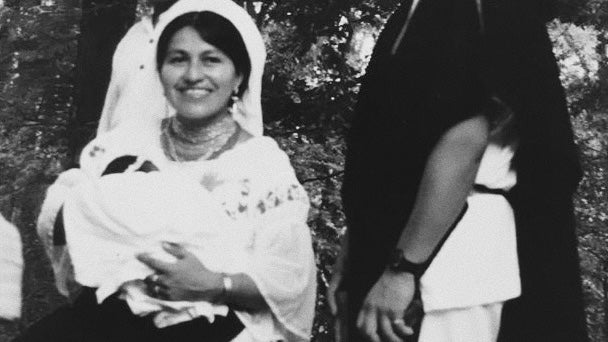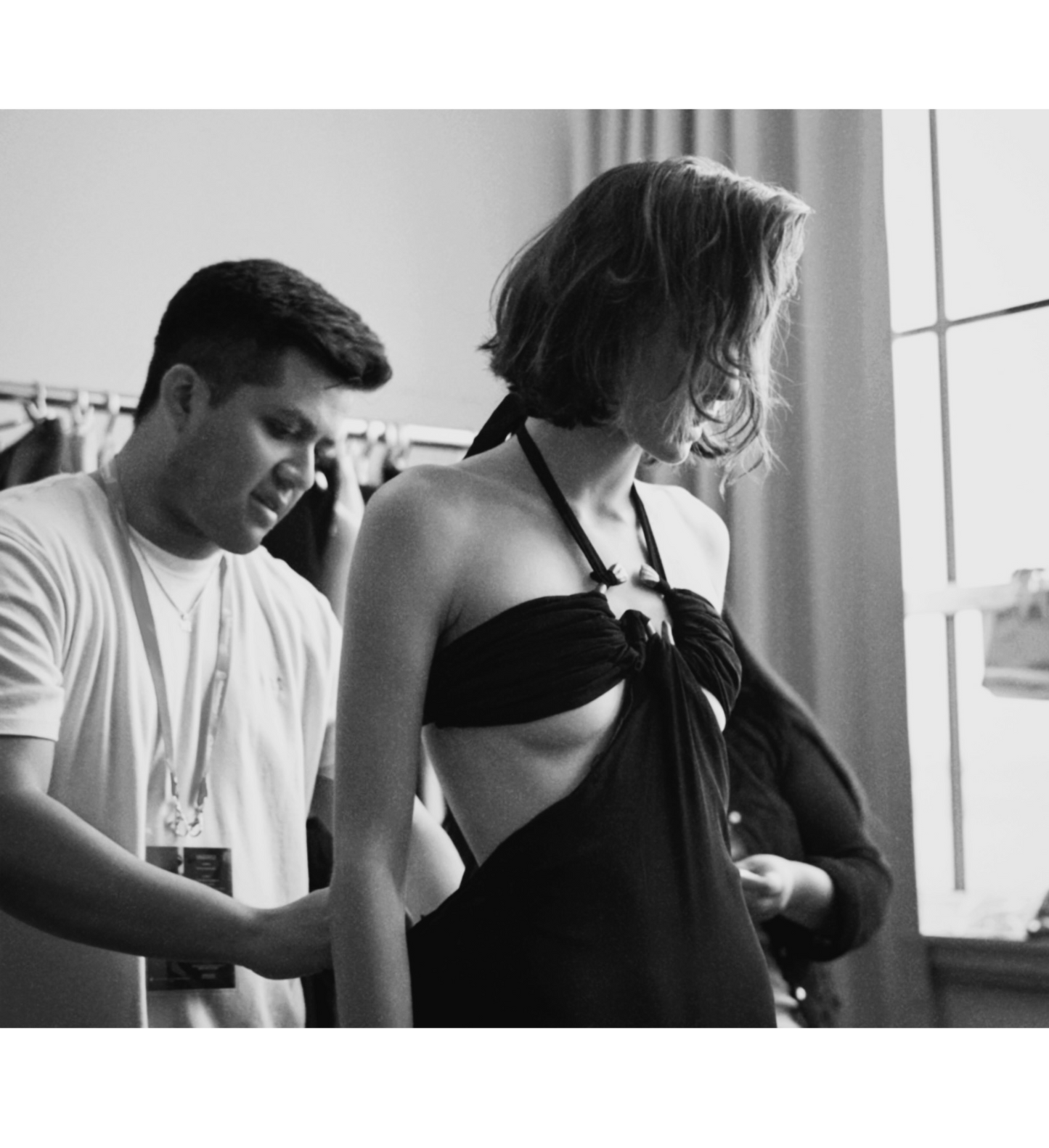 THE DESIGNER
FOUNDER AND CREATIVE DIRECTOR, NEITHAN RUIZ.
"I WAS RAISED BY AN INDIGENOUS MOTHER, WHO IN A FOREIGN COUNTRY, TAUGHT ME TRADITIONS THAT CELEBRATE THE INNUMERABLE PRETEXTS OF LIFE AND DEATH. I WAS SHOWN A LOVE AND RESPECT FOR NATURE AND WAS TAUGHT THE VALUE OF WORKING TOGETHER AS A UNITED COMMUNITY. RITUALS PROVIDED THE FRAMEWORK TO LIVE AS A FREE SPIRIT. THAT'S WHY I CHOSE TO DIG INSIDE THE DIARY OF ALL THE THINGS THAT I'VE LEARNED OVER THE YEARS FROM MY MIX OF CULTURES AND REINTERPRETED ON MY WAY."
BORN IN ECUADOR BUT RAISED IN MEXICO NEITHAN ATTENDED THE "ISTITUTO EUROPEO DI DESIGNSCHOOL, WHERE HE BECOME PART OF THE DESIGN TEAM OF PITTI UOMO SUSTAINABLE MENSWEAR AND WORKED ON THE DEVELOP OF HIS OWN BRAND DOING FREELANCE PROJECTS FOR ITALIAN ARTIST AT THE BEGINNING OF HIS CAREER. AFTER GRADUATING IN 2020, HE DEVIEW HIS FIRST COLLECTION DURING MILAN FASHION WEEK IN 2020. NEITHAN RETURNED TO SAN MIGUEL DE ALLENDE IN 2021 TO LAUNCH HIS EPONYMOUS LABEL.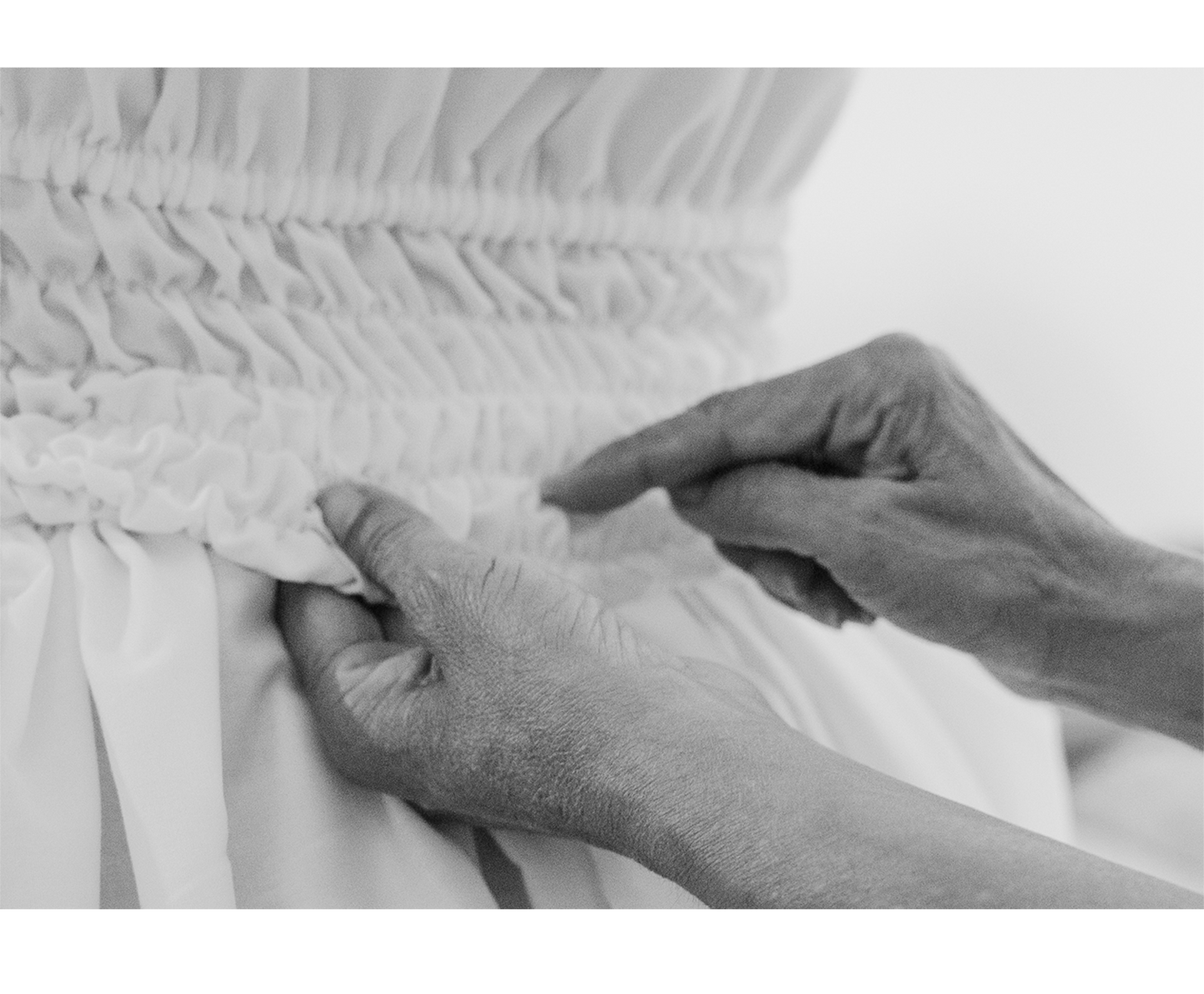 DESIGN PRINCIPLES
NOSTALGIA & ROMANCE
EMBRACING HIS ROOTS, FEMININITY AND ROMANCE. FOCUSED ON THE DECONSTRUCTION OF THE TRADITIONAL SILHOUETTES TO THEN MIX THEM WITH CRAFT TECHNIQUES, TAKING THE PAST AND MAKING A MODERN TWIST. TRADITIONS AND MYTHS ALSO PLAYED A BIG ROLE INTO THE COLLECTIONS, FINDING THE LINK WITH THE PRE-HISPANIC CULTURES. NOSTALGIA AND EMOTION BRING THE SILHOUETTES TO LIFE.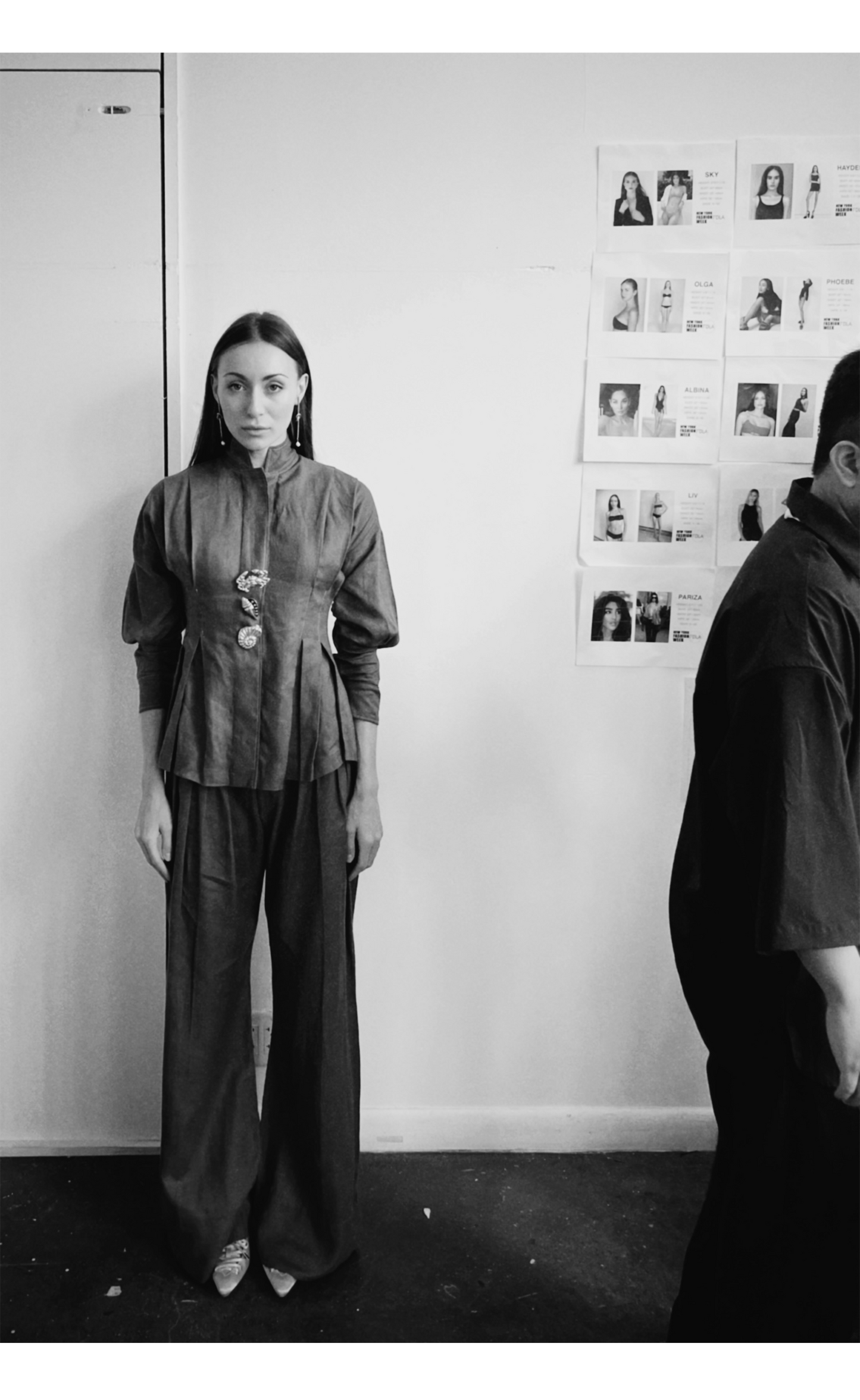 PHILOSOPHY
THE UNIQUELY FEMININE AND MYSTIC UNIVERSE OF NEITHAN EMOTION MIXES TRADITION WITH ROMANCE. EACH GARMENT IS A PIECE OF HISTORY TAKEN FROM OUR MEMORIES, TRADITION, EMOTION, COMMUNITY, NATURE WORKING ON CARRYING EACH OF THE KNOWLEDGE THAT HAS PASSED FROM GENERATION TO GENERATION AND MADE US PART OF NOT ONLY ONE CULTURE. IT IS A TRIBUTE TO THE PERSON WHO GAVE US LIFE (MOTHER) AND TO ALL THOSE COMMUNITIES THAT WORK DAY BY DAY TO MAINTAIN THEIR DIVERSITY, IN A SOCIETY THAT IS GRADUALLY LOSING ALL THESE TRADITIONS. THE MAIN INSPIRATION CAME FROM THE CURIOSITY TO SEARCH INSIDE OF OUR ROOTS. THE MUSE OF THIS BRAND WAS A NOMAD SO THE CLOTHES ARE DESIGN THINKING ABOUT WOMEN IN A NEW WAY, ATTUNED TO HER LIFE. CLOTHES MADE FOR MOVEMENT HANDCRAFTED WITH MASTERY OF THE OLD WAYS, BRINGING THE INTRICATE DETAILS OF COUTURE INTO EVERYDAY LIFE.
"It's about taking something classic and historical and contrasting it with something real and gritty
to create something fresh"
COMPANY
LOCAL MADE
ANGIE AND NEITHAN ARE ENTREPRENEURS BUILDING AN INDEPENDENTLY OWNED COMPANY, BASEMENT OFFICE IN SAN MIGUEL DE ALLENDE, MEXICO. SINCE ITS BEGINNINGS, THE TEAM HAS FOCUSED ON GIVING OPPORTUNITIES TO THE LOCAL PEOPLE, THE MAIN WORK ROOM GIVE THE CHANCE TO YOUNG PEOPLE TO BE PART OF THIS BRAND AND SINGLE MOTHERS WHO ARE THE HEART OF THE BRAND. NEITHAN HERBERT PRESENTED THEIR FIRST COMMERCIAL SHOW AS PART OF PARIS FASHION WEEK FOR SS22 AND NOW ON THE CALENDAR OF NEW YORK FASHION WEEK SS23 AS PART OF THE DESIGNERS OF LATIN AMERICA.